Weekly U.S. carload, intermodal volume remains down
| October 13, 2022
Overall traffic off 2.4% from same-week figures for 2021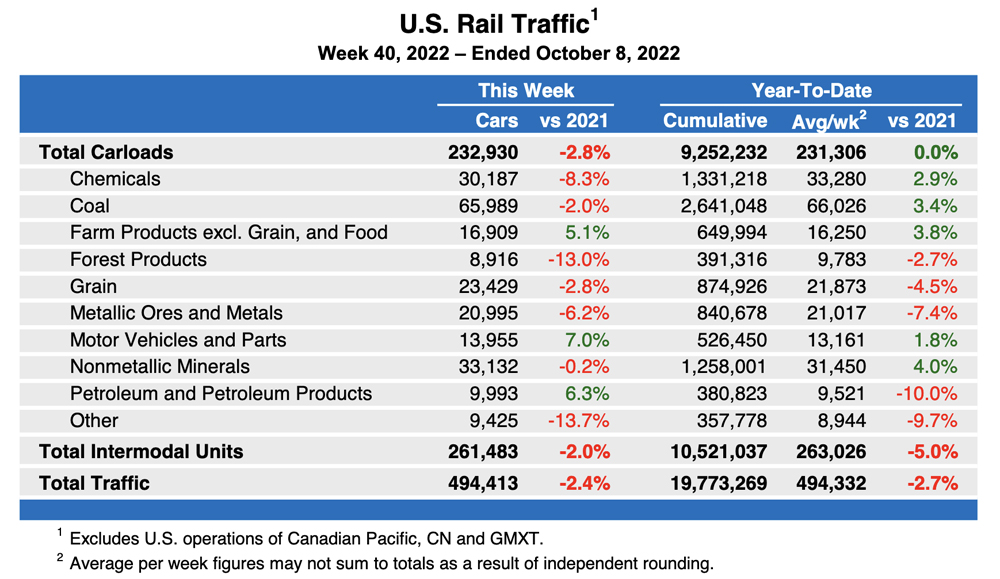 WASHINGTON — Carload and intermodal traffic remain below 2021 levels in the latest weekly statistics from the Association of American Railroads.
For the week ending Oct. 8, overall traffic of 494,413 carloads and intermodal units represented a 2.4% drop from the same week a year earlier. That figure included 232,930 carloads, down 2.8%, and 261,483 containers and trailers, down 2%.
Year-to-date figures, through 40 weeks of 2022, show overall traffic down 2.7%, with carloads even with 2021 figures and intermodal volume down 5%.
North American totals, for 12 reporting U.S., Canadian, and Mexican railroads, show 690,202 carloads and intermodal units, down 0.6% from the corresponding week in 2021. That includes 336,086 carloads, down 0.5%, and 354,116 intermodal units, down 0.8%.
Year-to-date North American totals are down 2.2% from the 40-week totals for 2021.