Amtrak, Massachusetts seek conditions on CSX-Pan Am merger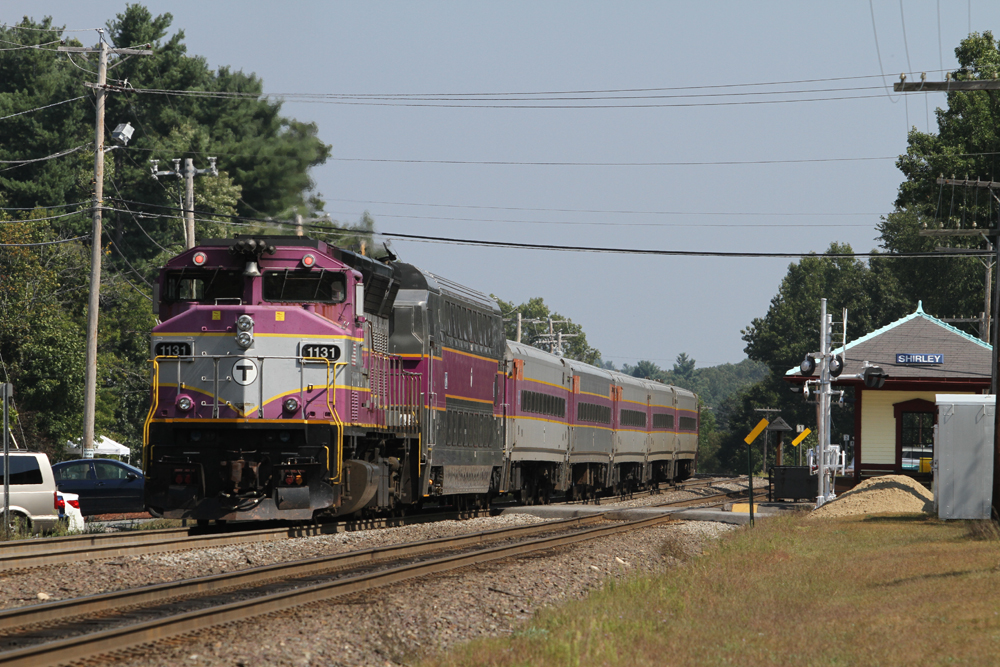 WASHINGTON – Amtrak and Massachusetts transportation officials have asked federal regulators to impose conditions that would protect current and future passenger and commuter service in the Bay State as part of CSX Transportation's proposed acquisition of Pan Am Railways.
Their comments were among those filed yesterday, the Surface Transportation Board's deadline for receiving briefs regarding the merger that will expand CSX's presence in New England. The board has scheduled a hearing on the merger for Jan. 13, and Jan. 14, if necessary [see "Federal regulators schedule public hearing …," Trains News Wire, Dec. 10, 2021].
CSX, Pan Am, and Norfolk Southern submitted filings backing the end-to-end merger, while Canadian Pacific raised concerns about the future of Pan Am Southern's former Boston & Maine main line through Hoosac Tunnel.
CSX CEO Jim Foote touted the merger in a statement today. "This transaction will provide tremendous benefits for New England and enjoys widespread support from shippers in the region," Foote said. "We look forward to growing the CSX network by integrating Pan Am and bringing our best-in-class service to the region."
But Amtrak and the Massachusetts Department of Transportation and Massachusetts Bay Transportation Authority each asked the board to impose seven conditions as part of an approval of the merger.
Massachusetts and the MBTA said discussions with CSX have been positive but have not yet produced a written agreement. The state said it would withdraw its request for conditions if the two sides reach a deal.
Among the conditions sought: Transfer of dispatching on state-owned routes to the MBTA; drafting of a plan to address "threats to capacity and to existing and projected future passenger rail service over MBTA-owned trackage;" a joint inspection of Pan Am and Pan Am Southern facilities to ensure they meet industry standards; and a commitment to maintaining the state-owned "Knowledge Corridor" between Springfield and East Northfield as Class 4 track.
Massachusetts and Amtrak, in separate filings [the Massachusetts filing is here; Amtrak's is available here], asked the STB to make CSX commit to studying and allowing proposed passenger service in Western Massachusetts over both the CSX former Boston & Albany main line and the Pan Am Southern former B&M main west of Ayer.
Amtrak and state officials also asked the board to ensure that CSX would permit an expansion of Amtrak service, including seasonal Berkshire Flyer service between Albany, N.Y., and Pittsfield, Mass.; multiple round-trip service between Springfield and Worcester, Mass.; up to two daily round trips between Albany and Worcester; and improvements to Union Station in Springfield as a hub for east-west and north-south service.
Amtrak also sought conditions that would guarantee CSX cooperation with proposed improvements to Downeaster service linking Brunswick and Portland, Maine, with Boston.
CSX, Pan Am, and Norfolk Southern submitted briefs in support of the transaction, which they say will benefit shippers in New England, result in upgrades to Pan Am trackage, improve safety, and boost passenger and commuter service in the region. (The CSX-Pan Am filing is available here.)
NS also said that designating Genesee & Wyoming's Berkshire & Eastern as neutral operator of the Pan Am Southern joint venture will preserve rail competition in the region. Pan Am Southern includes 425 miles of trackage west of Ayer as well as Pan Am's north-south route along the Connecticut River and related branches.
But Canadian Pacific, which interchanges with Pan Am Southern at Mechanicville, N.Y., argued in its filing that the CSX acquisition of Pan Am will diminish competition and threaten the viability of the former B&M main line from Ayer to Mechanicville.
NS currently runs a pair of daily intermodal and automotive trains to and from Ayer. After the merger, those trains will be rerouted to new trackage rights on CSX from the Albany area to Worcester, and from there to Ayer via a combination of Providence & Worcester and Pan Am Railways trackage.
"By acquiring Pan Am, CSX would simultaneously achieve control of the railroad that operates PAS [Springfield Terminal, a Pan Am subsidiary] and acquire a 50% interest in PAS itself, while also stripping PAS of much of its overhead traffic," CP wrote. "The Board should proceed with great caution here, and condition the Transaction in a way that preserves the long-run incentives of the various parties to invest in and operate PAS's Hoosac Tunnel Route as a no-less-viable competitive alternative than it would have been absent the Transaction."
CP asked the board to impose conditions that would keep the Mechanicville gateway open on commercially reasonable terms; require Pan Am Southern to maintain the former B&M main line at or above pre-merger levels; and provide service comparable to pre-merger levels.
NS noted that not a single shipper had raised concerns about competition in Pan Am Southern territory — and that many rail customers, including J.B. Hunt and Hub Group, support the deal.
NS also said CP's concerns about Pan Am Southern were misplaced.
"First, NS is the last party who would want to see an erosion of PAS's viability. NS does not have the option to route traffic away from an NS/PAS routing except for the one intermodal train on CSX's east-west line. As such, NS must maintain PAS's viability if NS is to remain a competitive balance to CSXT," NS said in its filing.
Pan Am Southern's loss of NS intermodal traffic will largely be replaced by carload business CSX will shift to the former B&M, NS said.