Massachusetts Bay Transportation Authority News
Page Updated on April 1, 2022
MBTA restores Orange Line service following parking-garage collapse
By | March 30, 2022
One Orange Line station, portion of Green Line remain closed

BOSTON — Massachusetts Bay Transportation Authority Orange Line service has resumed after a suspension from Saturday's partial collapse of a parking garage, but the Haymarket station remains closed.
Also, Green Line service remains suspended between Government Center and North Station.
The Orange line had been closed between Back Bay and North Station while tunnels and other infrastructure were inspected. The MBTA says in an update that most of debris came down directly above the Green Line, so "an intensive examination and assessment of the tunnels used by Green Line trains" continues. "
The MBTA offers updates and service options at this page on its website.
Service disrupted on two MBTA transit lines
By | March 28, 2022
Collapse of parking garage leads to suspension on Orange Line, bus bridge on Green Line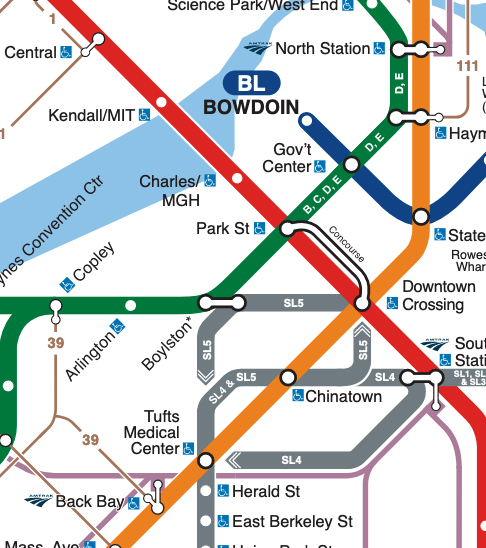 BOSTON — A partial collapse of a parking garage has led the Masschusetts Bay Transportation Authority to suspend service on parts of two transit lines as of this morning (Monday, March 28).
Orange Line subway service has suspended for a seven-station segment between the Back Bay and North Station stops, while a bus bridge is operating on the Green Line between the Government Center and North Station.
Service is suspended indefinitely.
"Service will not resume until a team of structural engineers, examining and assessing infrastructure above and below the surface, confirms that service can safely resume," the MBTA says in a press release on its website, which also details recommended alternatives for passengers.
Boston.com reports part of the garage at the Government Center, which was being demolished, collapsed Saturday evening, killing one worker and injuring a second.
MBTA's Orange Line was suspended
BOSTON — 3/8/2022

Service on a portion of the MBTA's Orange Line was suspended briefly Tuesday morning due to a power problem.
The MBTA said service between North Station and Back Bay was suspended, and commuters were urged to use the Green Line for service through downtown Boston.
NEWS FLASH 1/6/22

– MBTA Commuter Rail- ROCKPORT Ma Rail line
BOSTON – MBTA has announced that service over the single-track Gloucester drawbridge is expected to be restored by May 2022, allowing commuter rail service to resume to the Gloucester and Rockport stations.
While construction of a replacement bridge continues, the disruption in service allowed MBTA opportunity to accelerate other projects planned for the Rockport Line that would have required service interruptions later in 2022. These projects included replacement of more than 11,000 wood ties with plastic ties containing no preservative chemicals between Cleveland Street in Gloucester and Poole's Lane in Rockport. Eleven 150-year-old "stacked stone" box culverts were removed and replaced with concrete pipe restoring water flows. A 12th culvert will be replaced in early spring 2022 (before service is restored) to complete the culvert that was deemed at risk.
At Rockport, switches and track beyond Poole's Lane were renewed, and the Gloucester and Rockport stations were deep cleaned and repainted. Between Gloucester Station and the drawbridge, a new CTC controlled interlocking was installed to replace a spring switch.
We're making improvements on the Mattapan Line to ensure accessible, reliable, and modern service for Dorchester, Mattapan, and Milton for years to come.
The Mattapan Line serves 6,600 riders every day, and the historic 1940s trolley fleet runs on 2.6 miles of track between Ashmont, on the Red Line, and Mattapan Station. The route has 8 stations and connects riders to many local bus routes and the Neponset River Trail.
Why We're Doing This Work
At public meetings in Dorchester, Mattapan, and Milton, residents talked to us about the issues that are important to them, including accessibility, safety, and the historical significance of the existing Presidents' Conference Committee (PCC) trolleys.
Future improvements to the Mattapan Line will incorporate and reflect that feedback, and allow for the continuation of accessible, reliable, and safe service.
In the next 8-10 years, we will make improvements to the existing fleet and infrastructure. Additionally, we are we are considering substantial changes we might make beyond the next decade, including options for a new fleet, and the infrastructure needed to support that fleet.
What You Can Expect During This Work
The transformation project has 3 phases, and Phase 1 has begun.
We're making $7.9 million in fleet improvements, including modern propulsion and braking equipment and car body repairs. These upgrades are expected to extend the service life of the historic fleet of PCC cars by 8-10 years.
Phase 1- Immediate Investment and Planning
We've also studied the existing conditions of the Mattapan Line and its future transportation needs, taking several factors into consideration, including:
Safety
Accessibility
Infrastructure requirements
Vehicle availability
Power requirements
Phase 2 – Repairs and Modernization – Currently
We'll be making station and infrastructure investments to support future service, independent of the vehicle type that is closen.
Station improvements:
Accessibility and amenities improvements
Platform/structure repairs and upgrades
Improved access and paths of travel at Valley Road, Milton, and Ashmont
Infrastructure improvements:
Rehabilitation and maintenance of bridges and track
Power system resiliency efforts, such as the renovation of Ashmont traction power substation and construction of new substation
Signal system installation at Central and Capen road crossings

Note: Trolleys have been moved and are striped down and working on rebuild – 1/05/2022
Phase 3- Integration of the Future Vehicle
We are considering options for what a new fleet might look like, and the infrastructure needed to support that fleet.
Potential options are:
Upgrade existing PCC fleet
New, replica PCC fleet
Repurposed Green Line light rail vehicles
New, modern light rail vehicles
Diesel-electric hybrid bus fleet
Battery-electric hybrid bus fleet
This may include vehicle upgrades or procurement, station platform customization, vehicle-specific power upgrades, and maintenance facility construction.
UPCOMING MBTA PUBLIC MEETINGS
Jan Thu, Jan 27, 2022 • 10 AM

Thu, Feb 24, 2022 • 10 AM

Thu, Mar 24, 2022 • 10 AM
Look at the New MBTA Lechmere Station
Membership set for new MBTA Board of Directors
BOSTON — Membership for the new Massachusetts Bay Transportation Authority board of directors is complete after Gov. Charlie Baker appointed five members to the seven-member board.
State House News Service reports Betsy Taylor, a veteran of the Massachusetts Department of Transportation board, will chair the new board, which replaces the Fiscal and Management Control Board. Its legislative authority expired earlier this year.
Find Out More here: Trains.com
MBTA light rail operator arraigned on charges from July crash
BOSTON — The operator of a Massachusetts Bay Transportation Authority light rail train that rear-ended another train in July, injuring more than 20 people, has been arraigned on two charges of gross negligence in connection with the accident.
Find Out More Here:Trains.com
Read the preliminary report Here
NTSB: MBTA light rail train was going 30 mph when it struck train ahead
By Trains.com | August 3, 2021
Preliminary investigation continues into accident that injured 25
WASHINGTON — National Transportation Safety Board investigators have determined that one Massachusetts Bay Transportation Authority light rail train was traveling at 30 mph when it struck another train Friday in an accident that injured 25 people.
In a press release, the NTSB said it had obtained information from the event recorder on the train that struck a slower-moving train ahead of it. That train was traveling about 10 mph. Two cars on the first train and one on the second train derailed as a result of the collision. Multiple Boston-area media outlets have reported there is a 10 mph speed limit at the accident location.
NTSB investigators arrived in Boston. The agency said the investigative team includes members of the Federal Transit Administration, MBTA, and Massachusetts Department of Public Utilities. A labor union representing MBTA employees has also been offered the chance to participate.
The NTSB said it will release a preliminary report within 30 days of the completion of on-scene work.
MBTA B-linen ear Trolley Crash-July 30,2021
A crash Friday evening between two outbound MBTA Green Line trolleys close to Agganis Arena left 25 people injured, with non-life-threatening injuries, and shut down the B Line along Commonwealth Avenue forcing passengers onto shuttle buses for several hours. The cause of the crash is not known, and the MBTA said an investigation is underway.
The MBTA said the B Line collision involved trains near Babcock Street, right at the intersection of Agganis on one corner and Blaze Pizza on the other. It's also the area where the T is wrapping up construction on the consolidation of four stations into two stations in order to speed up the notoriously slow trip through the Boston University campus along Comm Ave. Four train operators were among those injured.
On Saturday, The Boston Globe reported that one of those four operators had been placed on paid administrative leave, based on "developments in the investigation." Also Saturday, the National Transportation Safety Board said that it would be investigating the crash.
One passenger who was on the outbound train that was hit from behind described the crash and the aftermath. Brian Sirman (GRS'14, CAS'02, MET'08) graduated from BU's College of Arts & Sciences in 2002, taught in the writing program and stayed in Boston for 20 years, but now lives in Nashville. He was visiting friends in Boston for the weekend.
"I was sitting in the back, the train was stopped," Sirman told BU Today Saturday morning. "All of a sudden it jolted forward, it seemed like really fast, and it seemed like it kept going. I remember there was a girl sprawled on the floor screaming, 'Stop!' I saw one guy who had been sitting on the side and another person who'd been standing, they were also sprawled on the floor. The worst injury I saw was a girl behind me clutching her shoulder, crying in a lot of pain. I saw one person taken away on a stretcher. At first I thought it might have been mechanical failure because of the way we jolted forward so suddenly. It was only when I got off and saw the damage that I realized what happened."
According to reports with overhead video of the crash scene, one trolley could be seen with damage to one end, and some shattered glass on the front windshield. The accident upended the busy road during a Friday evening rush hour, as fire, police and rescue vehicles converged on the scene and television news choppers hovered overhead.
Shortly before 9 pm Friday, the MBTA tweeted: "Green Line Update: Shuttle buses continue to operate on the B Branch between Kenmore and Washington Street. Tonight's planned work on the D Branch has been cancelled." By Saturday morning, service had been restored.
MBTA General Manager Steve Poftak said the two trains were traveling outbound, and the trailing train collided with the one in front. He said all the victims were conscious and alert, and that the agency's "thoughts are with them."
"Our second thought is turning to an investigation to understand why this happened," he said in a press conference at the scene.
In 2009, the last time two Green Line trolleys collided, a 24-year-old train operator said he was texting his girlfriend, causing him to miss a red signal and crash into the train in front of him. That accident injured 49 people, caused $10 million in damage, and sparked multiple lawsuits, in addition to moving the MBTA to restrict drivers from having their cell phones while working.
"We will obviously get to the bottom of this," Poftak said when asked what might have caused Friday's crash. "This should not happen. We will find out why it happened and we will ensure that it does not happen again."
Poftak would not speculate on the cause of the accident other than to say they got too close together, which is something that is not supposed to happen. He also said, "there is significant damage to infrastructure that will have to be repaired."
Another passenger who was on board one of the trains in the crash told The Boston Globe: "It was so fast. Very, very fast," Flavio Correa of Allston, who was with his wife, told the Globe. He said he bumped his knee and elbow, and his wife his her chest, but they were otherwise fine.
Medford, Ma – June 7,2021 @10:18pm
Engineers investigating the March derailment of one of the MBTA's newest trains have arrived at not one but four contributing factors in the incident. According to MBTA officials, one of the new Orange Line trains was going at a slow rate of speed and was crossing over to the southbound track at 11:40 a.m. on March 16, when the third car on the train derailed. About 100 passengers were on board at the time. No injuries were reported.
The new trains were taken out of service on both the Red and Orange lines while the derailment was investigated. Deputy General Manager Jeff Gonneville on Monday told the Fiscal and Management Control Board about four identified factors.
No preventative guard rail was present at the switch
The cross-level of the track at the switch was near the limit of MBTA standards
The coefficient of friction at the switch was estimated to be higher than the industry standard
The rotational force of the trucks was outside of design limits because of the degraded performance of side bearer pads.
"Although there is no single point of failure at any one of these, each one of these items obviously has a greater level of influence onto the incident," Gonneville said. "The MBTA right now does feel pretty strongly right now that the guard rail itself on the switch and the excessive rotational force were more than likely the key contributing factors that led to this incident."
Gonneville said train car manufacturer, CRRC, agreed with MBTA about the rotational force and guard rail but asserted the other issues were also contributing factors.
In a previous FMCB meeting, Gonneville showed the board video of a test unit, which he compared to an air hockey table, which is used to calculate the forces acting on the truck frame. Gonneville said multiple cars were put through the test.
"What we found after we built this test rig was that the force that is necessary to essentially rotate the truck frame is increasing directly with the mileage of the vehicle," he said.
On Monday, Gonneville said the MBTA was still not ready to set a date for when the new trains will be ready to return to service.
Boston,Ma 5/29/2021- T notes: Impasse over fare evasion fines-
Service levels going up, crowding standards getting scrapped
FOR THE SECOND STRAIGHT meeting, the MBTA's Fiscal and Management Control Board and T staff couldn't reach consensus on what the fines should be for fare evasion.
The current fines are $100 for a first offense, $200 for a second offense, and $600 for a third or subsequent offenses. T staff on May 10 recommended reducing the fines to $50 for first, second, and third offenses and $100 for all subsequent offenses.
But the T staff's recommendation didn't sit well with several members of the control board, who called for reducing the fine for initial offenses to $10.
T staff came back on Monday with a new approach, setting different fines for different types of service. For local bus, subway, the Charlestown ferry, and the Fairmount commuter rail line the staff's proposed fine was $25 for first, second, and third offenses and $50 for all subsequent offenses. For express bus and all other commuter rail and ferry services, the proposed fines were $50 for first, second, and third offenses and $100 for subsequent offenses.
Again, several members of the control board objected, saying the proposed fines are still too high. Brian Lang and Monica Tibbits-Nutt called for a $10 fine for first, second, and third offenses for local bus, subway, the Charlestown ferry, and the Fairmount commuter rail line and $25 for all subsequent offenses. They said the fine for express bus and other commuter rail and ferry service should be $50 for first, second, and third offenses and $100 for each subsequent offense.
MBTA General Manager Steve Poftak pushed back against the proposed change, saying the low fines would encourage fare evasion and force the T to expand its fare verification team beyond 80 people.
Lynsey Heffernan, the acting assistant general manager for policy, said a fare verification team of 80 people would yield an inspection rate of 5 to 7 percent, meaning the typical passenger would be checked only once every 20 rides. To avoid bias, the T's proposed fare evasion regulations call for fare inspectors to check everyone on board a vehicle.
Joe Aiello, the board chair, tried to find common ground by starting the fines at $10, ramping up to $20 for second and third offenses, and ending up at $50 or $100 for subsequent offenses. He said his goal was to target repeat offenders.
With no consensus in the offing, the control board agreed to put off a decision until the next meeting in June.
T boosting service levels, scrapping COVID crowding standards
With ridership hitting its highest level since the pandemic began more than a year ago, the T is moving to boost service levels and do away with COVID crowding standards that limited how many people could safely ride a bus or subway car.
MBTA General Manager Steve Poftak said T ridership in recent weeks hit its highest level since the pandemic began last spring. He said bus is at 50 percent of its pre-COVID capacity, subway is at 30 percent, and commuter rail has increased from single digits to nearly 19 percent of its pre-COVID capacity.
Starting June 20, service levels on the subway and bus systems will return to pre-pandemic levels and in some cases surpass them. Subway service will also be added during the midday period, reflecting a possible shift in ridership away from the traditional peak periods.
While Poftak said T riders are still being required to wear face masks on trains and buses and in stations, he said crowding standards implemented last year to allow for social distancing are being scrapped this coming Saturday, the same day the governor's COVID restrictions are being lifted.
Under the COVID crowding standard, a 40-foot bus is considered crowded with 20 people on board as opposed to the 56 people pre-COVID. On the Red Line, a car is currently considered crowded with 66 people on board, compared to 161 pre-COVID. On the Green Line, a car is crowded with 31 passengers, compared to the old standard of 80.
Traffic rising even faster on roads
The state highway administrator on Monday said traffic over the upcoming Memorial Day weekend may match 2019 levels and warned that law enforcement officers are starting to issue a lot more distracted driving citations and warnings.
Jonathan Gulliver said congestion should be expected this weekend as traffic returns to pre-COVID levels.
Special schedules on certain lines Monday, weekend train service to Cape Cod begins Friday (CapeCod Flyer) BOSTON – May 27, 2021 – Keolis Commuter Services (Keolis), the MBTA's operating partner for Commuter Rail, is reminding passengers that train service will be provided on most lines Monday, Memorial Day. On Monday, May 31, Commuter Rail will operate regular weekend […]
Odds & Ends Related Stories
Weekend service is returning July 3 on the Needham, Franklin, Kingston, Greenbush, Haverhjill, Lowell, and Fitchburg lines.
The Massachusetts Department of Transportation signed a memorandum of understanding with the State Police agreeing to pay $19.5 million a year for police protection and services.
Somerville lawmakers and local officials turned out in force at Monday's virtual meeting of the Massachusetts Department of Transportation board to press for a total of $4 million in capital funding for noise barriers along I-93 and trees and road safety improvements along Mystic Avenue and McGrath Highway.
BOSTON, MA March 17, 2021

A man is dead after he was struck and killed by an MBTA Orange Line train at State Street Station, according to transit police.
Superintendent Richard Sullivan of the MBTA Transit Police Department says the man, who is believed to be in his 30s, intentionally entered into the right of way as the train was approaching. The man succumbed to his injuries and was pronounced dead, according to Sullivan. The MBTA initially tweeted about "a medical emergency" at the State Street Station shortly after 8 p.m.Orange Line train service was suspended between North Station and the Back Bay Station for just under two hours. Sullivan says no further updates will be issued.
MEDFORD, MA March 16, 2021
All of the new Red and Orange line trains have been taken out of service to allow vehicle engineers to perform a thorough analysis of the cars' performance after a train jumped the tracks at Wellington Station in Medford on Tuesday.
A northbound train traveling at a slow rate of speed with about 100 passengers on board was crossing over to the southbound track when it derailed around 11:40 a.m., according to an MBTA spokesperson.
The train was crossing to the southbound track to accommodate the ongoing Orange Line maintenance work, the spokesperson added.
Shuttle buses replaced service on the Orange Line between Oak Grove and Sullivan Square stations disrupting thousands of commuters.
These buses will continue running between Oak Grove and Sullivan Sq. for the next three weeks, according to MBTA officials who say workers will use the time to replace a decades-old track switch that was significantly damaged during the derailment.
"They are never on time. There are always issues, they never, no information and they never respect the customer," one woman said
There were no reported injuries.
Riders say things have been very slow going since construction began
"They've been doing work for weeks and now I think the work they've been doing is messing up the track and it got derailed," commuter Brandon Ivy said.
This isn't the first problem for the new orange line trains. Shortly after they were rolled out in 2019, some cars were taken out of service because the doors weren't closing. Then later that year, another Orange Line train was pulled from service because of a strange sound that came from the new cars. In this latest incident, there is some damage to the side of one of the train cars.
** MBTA officials said they will be using the temporary shut down in service to make additional infrastructure upgrades and improvements at stations along the Orange Line.
MBTA NEWS – March 5, 2021
MBTA Spring 2021 Subway and Bus Schedules Effective March 14
These changes are part of Forging Ahead, the MBTA's plan to preserve transit access and quality of service available to transit-critical customers and were approved by the FMCB in December 2020 along with other service adjustments to other MBTA travel modes.
MBTA NEWS – March 5, 2021
MBTA Spring 2021 Subway and Bus Schedules Effective March 14
These changes are part of Forging Ahead, the MBTA's plan to preserve transit access and quality of service available to transit-critical customers and were approved by the FMCB in December 2020 along with other service adjustments to other MBTA travel modes.