The Massachusetts Bay Transportation Authority
Hello Everyone!
Happy May 1,2021 to everyone. here we are in the spring of 2021, and I hope to see a lot more of fellow railfans out watching trains in their local area. Yesterday one the first day of may I went to the MBTA Wellington orange line station to visit the MBTA Orange line maintenance facility to fallow up on a video that I shot for my touringnewengland.orgwebsite and to look into where the new 1400 CRRC orange line subway trainsset (built in Springfield, ma at the new CRRC MA Corporation) are being stored for the time untill the Mbta decides to but them back in normal service. they are happy to report that they are stored in the storge yards behind the maintenance build along with the current older MBTA orange line subway trainsets. At this time a lot of construction of retracking the maintenance building and track work for the storge yard have been Completed, but seams to be a construction yard in side of the maintenance building. if you would like to take a look at the maintenance building and the storge yards at the MBTA Wellington orange line station after leaving the boarding platform head upstairs to the main lobby of the station and straight head thought till you see a a sign of parking garage and the walkway tunnel over the tracks of the MBTA , I hope you enjoy the view of the MBTA Wellington orange line station.
Ps. also New CRRC Red line Train set have been spotted in the Boston area at JFK/Umass station, unknown at this time where they are being stored or kept by the MBTA.
See ya Trackside!
Steven Provost
NewEnglandRailroading.com Webmaster
Posted 3/29/2021
Topic: Story- Shuttle buses replacing service on part of MBTA Orange Line for 3 weeks after derailment
The MBTA is also pulling all its new Orange and Red Line trains from service out of an "abundance of caution" after one of the cars jumped the tracks Tuesday.
Shuttle buses will replace rail service on a stretch of the Orange Line for the next three weeks as the MBTA works to repair damage caused when a train derailed near Wellington Station on Tuesday.
One of the MBTA's new Orange Line trains was traveling north at a "slow rate of speed," crossing over to the southbound track to accommodate ongoing track maintenance work, when it derailed just before noon on Tuesday, according to the transit agency.
While the cause of the derailment has not yet been determined, the MBTA, out of an abundance of caution, will keep its new Orange Line and Red Line cars out of service to allow vehicle engineers to perform a thorough analysis of the cars' performance," the transit agency said in a statement.
The MBTA has been running five of the new six-car trains — four on the Orange Line and one on the Red.
The cause of the derailment remains under investigation.
March 16,2021 –
Topic: MBTA GREEN LINE UPDATE
(Above )New Greenline to College Ave
The Green Line Extension (GLX) will extend the northern end of the Green Line from Lechmere to Union Square in Somerville and College Avenue in Medford.
Contract awarded: November 2017
Projected completion: December 2021
Budget: $2.3 billion
Status: Construction
GLX will provide service in areas that historically did not have access to fast and reliable public transit. By supporting an increased ridership of more than 50,000 trips per day, this project will significantly reduce vehicle emissions on the road.
What to Expect During Construction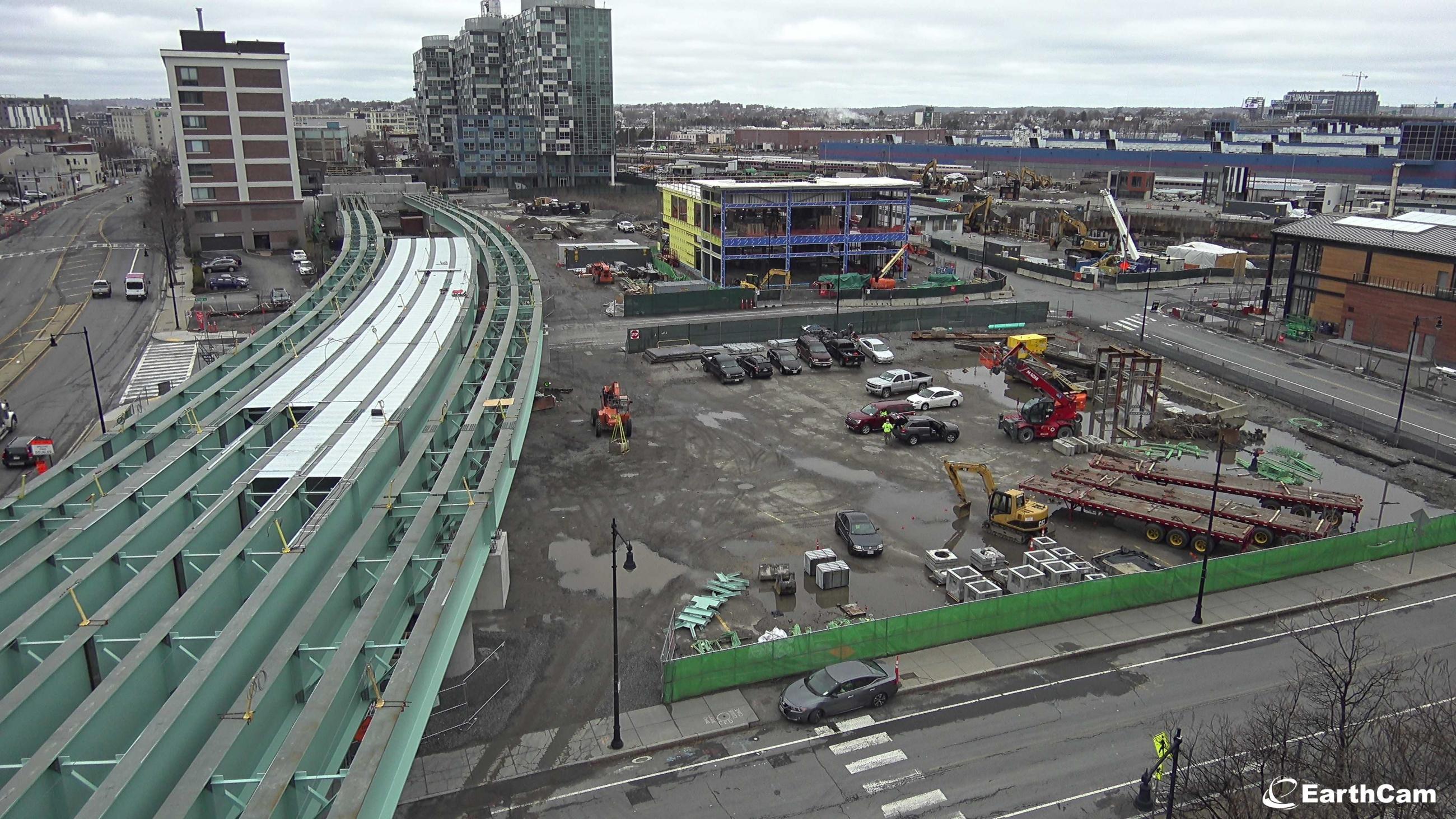 Green Line Service Changes
Starting on May 24, 2020, Green Line service will shut down at Lechmere and Science Park stations for approximately one year while crews work on the Lechmere Viaduct Rehabilitation in conjunction with Green Line Extension work.
During this time, dedicated inbound and outbound bus lanes along Charles River Dam Road will connect Lechmere and North Station, providing continued service for 14,000 Green Line riders.
MBTA Flickr Photos (Green Line- Lechmere branch)
Posted March 5, 2021
Topic:See service alerts for Green Line E branch
Topic: MBTA to Offer Two New Online Resources for Reduced Fare Customers
Beginning March 8, 2021, riders requesting a Senior CharlieCard for the first time can now apply online, and Senior/TAP customers can make appointments online.
Phase 1 of the Massachusetts Bay Transportation Authority's South Coast Rail construction is alive and well.
Phase 1 of the Massachusetts Bay Transportation Authority's South Coast Rail construction is alive and well.