CSX begins operating New England regional Pan Am Railways
| June 1, 2022
No start date yet set for G&W operation of Pan Am Southern joint venture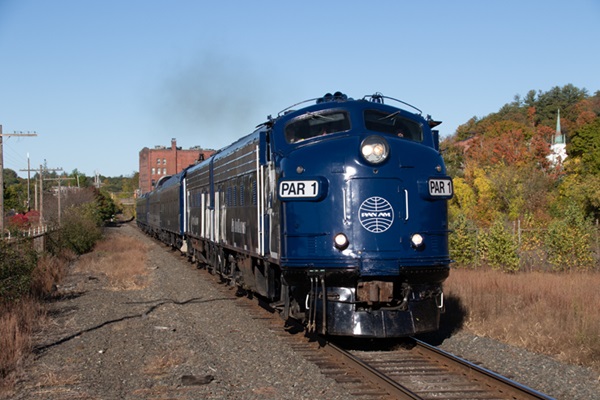 JACKSONVILLE, Fla. – Pan Am Railways is now a fallen flag.
The New England regional officially became part of CSX Transportation on Wednesday, six weeks after the Surface Transportation Board approved the acquisition.
"We are excited to welcome Pan Am's experienced railroaders into the CSX family and look forward to the improvements we will make together to this important rail network in New England, bringing benefits to all users of rail transportation in the Northeast region," CEO Jim Foote said in a statement. "This acquisition demonstrates CSX's growth strategy through efficient and reliable freight service and will provide sustainable and competitive transportation solutions to New England and beyond."
CSX plans to spend more than $100 million over the next three years to improve Pan Am's main lines and yards.
The deal adds Vermont, New Hampshire, Maine, and, via haulage rights, Saint John, New Brunswick, to the CSX network while expanding its reach in New York, Massachusetts, and Connecticut.
CSX also steps into Pan Am Railways' shoes in the Pan Am Southern, the joint venture with Norfolk Southern that includes Pan Am trackage west of Ayer, Mass., including trackage rights routes along the Connecticut River in Vermont, New Hampshire, Massachusetts, and Connecticut.
No date has been set yet for Genesee & Wyoming's Berkshire & Eastern to begin operating the Pan Am Southern, according to a G&W spokesman. As part of an agreement between CSX and NS, the Berkshire & Eastern will be the designated neutral operator of the Pan Am Southern. For now, Pan Am Southern continues to be operated by Pan Am Railways subsidiary Springfield Terminal. Berkshire & Eastern still must reach agreements with rail labor before it can take over as neutral operator.
NS also will shift its daily Chicago-Ayer intermodal trains to a faster and fully cleared route over new CSX trackage rights from the Albany, N.Y., area to Worcester, Mass., and then to Ayer via a combination of Providence & Worcester, Pan Am Railways, and Pan Am Southern trackage. The trains currently run via the Pan Am Southern route, the former Boston & Maine via Hoosac Tunnel.
But before NS can use its new trackage rights, it must first build a new connection track linking its Voorheesville Running Track with CSX's Selkirk Subdivision at Voorheesville, N.Y., where the Delaware & Hudson and New York Central once crossed at grade. Several clearance projects also must be completed north of Worcester. The projects are not expected to be completed until the fourth quarter at the earliest.
Pan Am, a privately held company owned by Tim Mellon and other investors, went on the market in 2020. CSX's bid beat two other suitors who were interested in acquiring the largest regional railroad in North America.
Including haulage rights, Pan Am stretches 1,700 miles from the Albany, N.Y., area to Maine. It includes the former Maine Central, Boston & Maine, Portland Terminal, and Springfield Terminal railroads. Pan Am connects with four Class I railroads — CSX, Norfolk Southern, Canadian National, and Canadian Pacific — and 14 short lines.
CSX connects with Pan Am at Rotterdam Junction, N.Y., on its former New York Central Water Level Route, and outside of Worcester, Mass., via its former Boston & Albany main line, which is far and away the busiest freight route in New England.
Pan Am entered the rail business in 1981 when the company, then known as Guilford Transportation Industries, purchased the Maine Central for $15 million. Two years later, Guilford purchased the bankrupt Boston & Maine for $24.5 million. Guilford acquired the Delaware & Hudson from Norfolk & Western for $500,000 in 1984, but cast it off into bankruptcy in 1988.
Guilford Rail System was rebranded as Pan Am in 2006. Despite the long-term decline of Maine's paper and forest product industries, as well as manufacturing across New England, Pan Am and Guilford managed to turn a profit every year.
Terms of the CSX-Pan Am deal were not disclosed, although people familiar with the matter said the purchase price was approximately $700 million.
Posted 11/17/2022