Amtrak News Page
PAGE UPDATED 2/17/2022
NTSB:Amtrak train was going 40 mph at time of conductor's fatal fall
By | February 16, 2022
Preliminary report issued on January accident in Westerly, R.I.

WASHINGTON — An Amtrak train was traveling at 40 mph when a conductor suffered a fatal fall in a January accident in Westerly, R.I., according to a preliminary report released Tuesday by the National Transportation Safety Board.
The accident occurred about 2:15 p.m. on Jan. 15, 2022. The conductor was discovered to be missing when the assistant conductor on Northeast Regional train No. 163 radioed the conductor as the train was ready to depart and did not receive a response. [see "Amtrak conductor killed …," Trains News Wire, Jan. 17, 2022]. A search found the conductor, unresponsive, about 1,200 feet east of the station.
The victim was subsequently identified as 26-year-old Emily Herrera of Plainville, Mass.
NTSB investigators reviewed surveillance video from a business along the tracks and found the train arrived at Westerly with two exterior doors open and the stairwells down for unloading at a low-level platform.
The ongoing NTSB investigation will focus on railroad operating rules, the mechanical condition of the train, and internal and external oversight of the Amtrak system, according to the preliminary report.
Amtrak to mandate COVID-19 vaccines for employees
By Trains.com| August 11, 2021
Office workers to return to workplaces on Nov. 1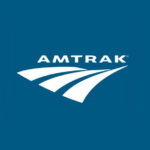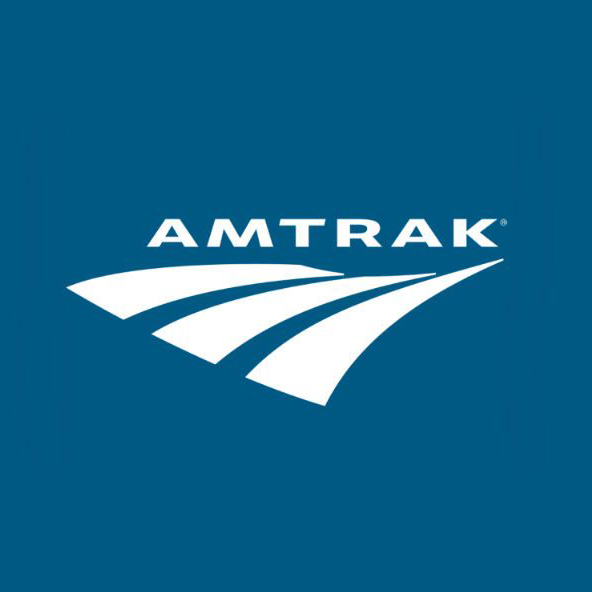 WASHINGTON – Amtrak will require its employees to be vaccinated for COVID-19 effective Nov. 1, according to a memo obtained by Trains News Wire. Unvaccinated employees must submit weekly proof of a negative COVID-19 test.
Amtrak is also extending remote work for office employees to Nov. 1. "This extension of the return date is prudent due to the rise in the Delta variant across the country, and it will allow time for more employees to get vaccinated," the memo reads.
In South Florida, private passenger carrier Brightline is also requiring the vaccine among its employees.
In the broader travel industry, Southwest Airlines, American Airlines and Delta Air Lines will not require their employees to be vaccinated, CNN reports. This is in contrast to United Airlines, which is requiring vaccines for its employees.
Amtrak begins project to refurbish Superliner interiors
| June 17, 2021
Work on coaches, sleepers, diners, lounges will also include Viewliner I sleeping cars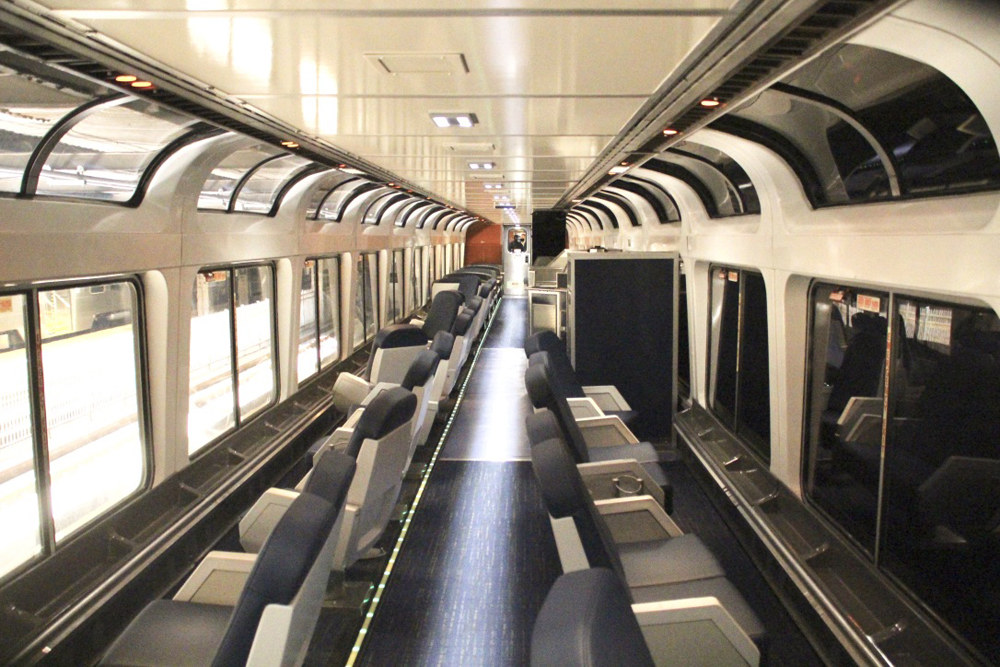 CHICAGO — Amtrak has begun a two-year project to refurbish interiors of its Superliner fleet, showing off the first car to be completed at an event earlier this week at Chicago Union Station. Along with the coach completely refitted with new seats, carpeting, and curtains, the company provided previews of the look for Sightseer Lounge and sleeping cars.
Superliner dining cars will also receive the new look, which carries the color scheme, fabric selections, and design elements across all car types, as will Viewliner I sleeping cars. Overall, the project will cost close to $30 million.
The new seats reflect but do not duplicate those used in the Acela fleet, making use of the same materials. "So we know it's wearing really well," says Roger Harris, Amtrak executive vice president, chief marketing and revenue officer. "The Acelas … were done about 2½ years ago, and they look new, still. So we think it's going to be a big step forward in terms of maintainability."
The Superliners are not being stripped to the walls and rebuilt inside; many elements remain as they were. "In order to get them all done, we made sure we did the things that could be done quickly," Harris says. "Because we wanted to get the benefits out to the customer right away. We didn't change the lighting or anything, because that really needs to be done on heavy maintenance."
While the overall project is expected to take about 24 months, coaches will be completed in about 18 months, says Larry Chestler, vice president, Long Distance Service Line. The work will be done at three sites — the Beech Grove (Ind.) Heavy Maintenance Facility, along with Seattle and New Orleans. "Those are places where we do overnight maintenance and have the facilities to do this kind of stuff," Chestler says. Three cars will be out of service at any one time to receive the refresh.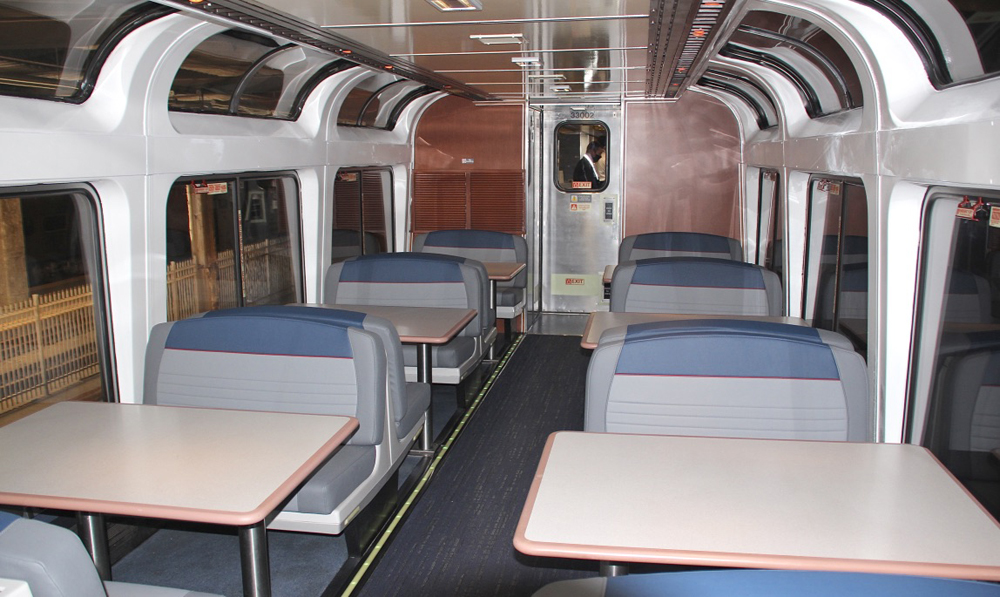 The preview included a completed upstairs of a Sightseer Lounge; the downstairs café had not yet been refurbished. "I think this car came out so well," Harris said. "We used to have these low-backed seats. They weren't very durable." Booths in the lounge car reflect the planned design for refurbishment of the dining car, with a distinctive arched seatback easily distinguished from the current design.
In the sleeping car, Chestler showed off examples of a refurbished bedroom and roomette, along with the new bedding and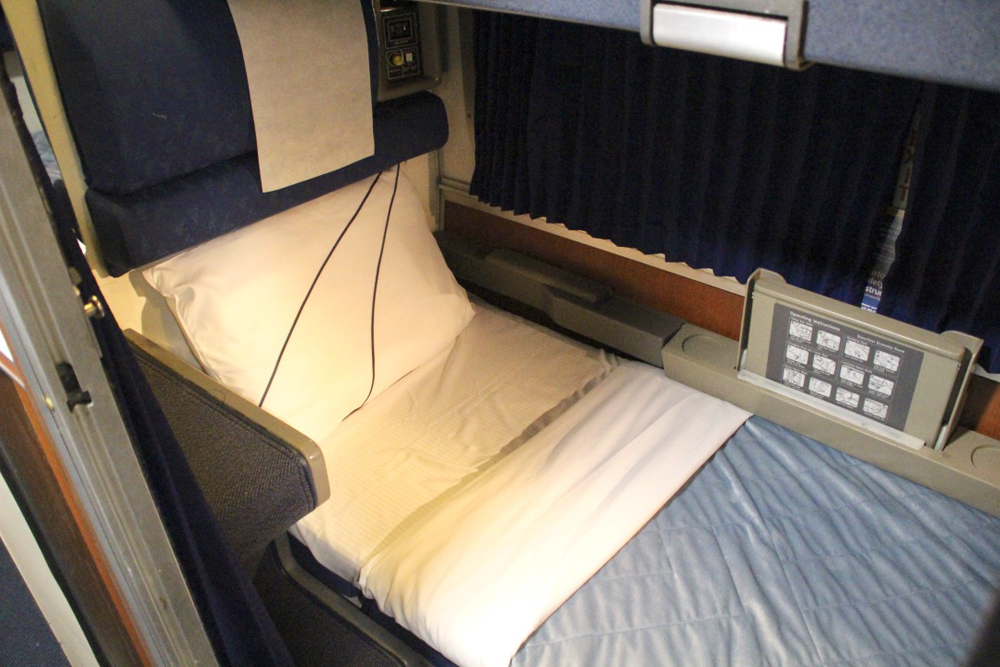 towels coming systemwide. That bedding — tested last year on Auto Train — will be placed into service as it arrives, likely in August. Even unrefurbished cars will see that portion of the new look.
A notable change in the bedrooms: In the showers, single-use containers will give way to large pump dispensers for soap, shampoo and conditioner. This change, reflecting a similar move by major hotel chains, aims to do away with the significant trash generated by the single-use containers.
As has been true with plans for many businesses, the Amtrak project was delayed by supply-chain issues resulting from the COVID-19 pandemic or other issues, Harris says. As an example, he cited the new carpeting. "The backing was made by a factory that was hit by the Texas freeze," he says, referring to the February cold snap and power outages that shut down much of the state. "So we have a carpet shortage. That wasn't even COVID; It's just the little things like that you don't think about."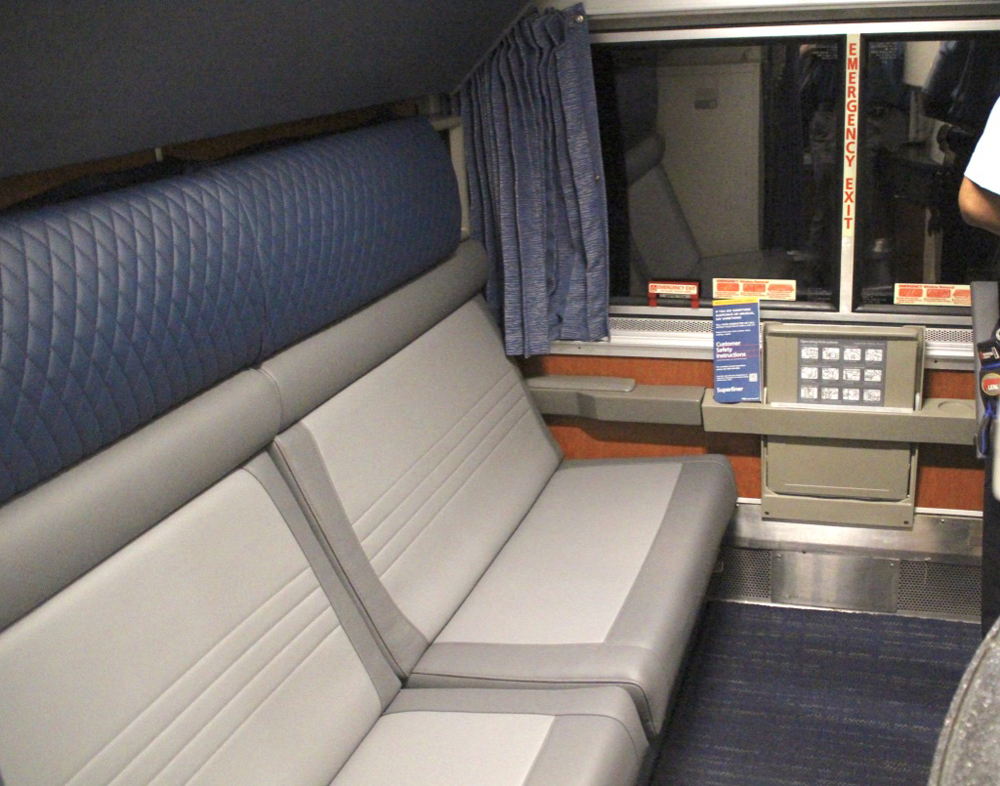 First Amtrak ALC-42 diesel locomotive set for release
By trains.com staff| June 11, 2021
The Siemens-built unit will travel east on regular Amtrak trains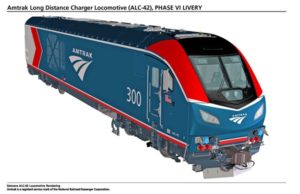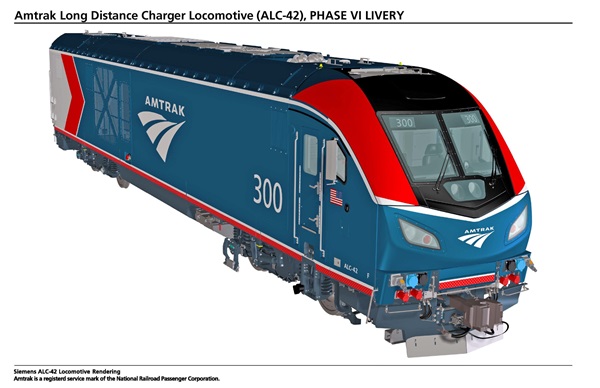 SACRAMENTO, Calif. – Siemens is putting the finishing touches on Amtrak's first ALC-42 locomotive, with its departure scheduled for this weekend. The first locomotive, AMTK No. 300, will be hauled in the consist of Amtrak's California Zephyr departing Emeryville on June 12, a source close to the railroad tells Trains News Wire. After arriving in Chicago on Monday the unit will be set out for a media even scheduled on Tuesday at Amtrak's facility just south of downtown. The unit is then scheduled to continue east from Chicago on the Capitol Limited departing June 16.
Amtrak is expected to begin receiving a handful of ALC-42s soon to begin testing the locomotives, then regular deliveries are expected to start in the second half of 2021. The 75-unit order of the 4,200-hp ALC-42s should finish in 2024. The Siemens Charger locomotives are largely like the existing locomotives Siemens has produced for other customers across North America and feature the Cummins QSK95 engine and A.C. traction, though they will have larger fuel tanks and more Head End Power capacity to fit Amtrak's needs.
May 31,2021
Biden budget proposal includes $13.5 billion for transit, increased Amtrak funding
Fiscal 2022 plan for Department of Transportation includes $625 million to help passenger carrier launch or expand corridor services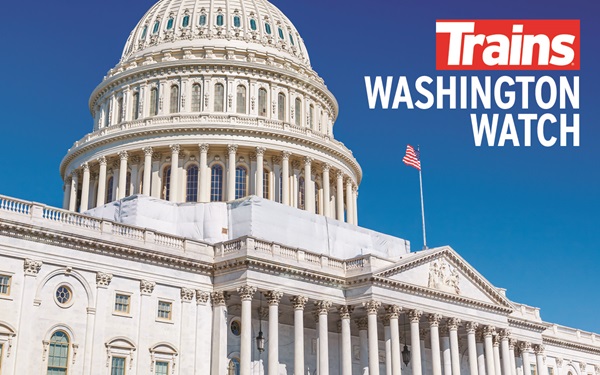 WASHINGTON — Transit projects would receive $13.5 billion and Amtrak would get $2.7 billion as part of $88 billion devoted to the U.S. Department of Transportation under the Biden Administration budget proposal submitted to Congress today.
"This budget reflects our Administration's priorities, and responds to our country's needs," U.S. Transportation Secretary Pete Buttigieg said in a press release. "It will start giving America the tools to get back to work, modernize our infrastructure, combat the climate crisis, and build equity into our transportation system so everyone can get around safely and affordably."
The transit funding would include $2.5 billion for Capital Investment Grants, a $459 million increase, to accelerate projects already in process and support new projects seeking approval, as well as $550 million for Transit Infrastructure Grants. Of that, $250 million will go to the Zero Emission Bus Program.
The Amtrak funding represents a 35% increase to address track and station improvements, fleet refreshment, and systemwide maintenance. Another $625 million would create a new program, Passenger Rail Improvement, Modernization and Expansion, or PRIME, grants, to develop and expand rail corridors across the nation.
Also, the program previously known as TIGER or BUILD Grants, which is now labeled as RAISE (Rebuilding American Infrastructure with Sustainability and Equity, would receive $1 billion in funding.
More details on the Transportation Department portion of the budget are available here.
May 19, 2021
Digest: Maine legislators consider bills to study expanded passenger service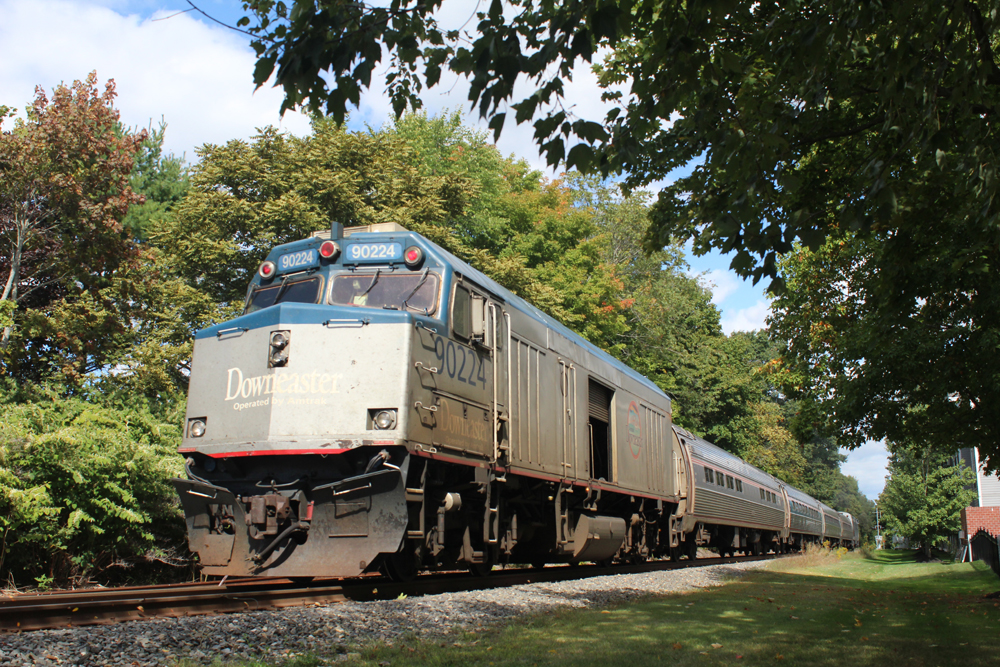 Two bills would fund studies of expanded Maine passenger service
Maine legislators are considering two bills to study expanded passenger rail service in the state, while some residents would like to see state-owned rail corridors used for recreational trails. Currently, Maine's only rail service, the Downeaster to Boston, terminates at Brunswick. WMTW-TV reports sponsors hope to have 90% of the state's residents live within an hour of rail service. One of the two bills would study an extension about 20 miles northwest to Lewiston and Auburn; the other would provide analysis of an extension about 110 miles north and east to Augusta and Bangor. Lines exist on both routes but would require upgrades and the construction of stations and platforms. ""We have a secretary of transportation who is very enthusiastic about rail, and we have a lot of resources going to state and local government," state Sen. Joe Baldacci (D-Penobscot) said during a Tuesday hearing. "We really have a once-in-a-generation opportunity to make this happen." The state purchased some 200 miles of rail corridors in 1989, but most are inactive, and Maine Public Radio reports that in addition to the passenger studies, the legislature's transportation committee is also considering bills that would promote use of the rail corridors for other purposes.
As Amtrak marks its 50th anniversary, many are reflecting on the railroad's past half-century and wondering how it will do in the next.
"America's Railroad" recently released a map showing the services it would like to offer by 2035; 14 years from now. As planning frontiers go, that is not a very long time. For us seniors, who remember the entire Amtrak era, it feels like an eternity; far beyond our lifetimes.
Everybody seems to be talking about the plan. One advocate called it "propaganda." while Railway Age Editor-in-Chief William C. Vantuono called it "an optimistic wish list." Both views have merit. Advocates' hopes for a strong, robust and expanded Amtrak have been dashed time and time again over the past five decades. Under current circumstances, though, Vantuono's view deserves consideration. At least Amtrak is thinking about expansion, which "hasn't happened for the longest time," to quote Billy Joel.
So, even acknowledging the lifelong frustration that many advocates feel and express on their blogs, it makes sense to give Amtrak the benefit of the doubt this time, and hope that our national railroad can actually expand its skeletal network. It won't be easy. There are daunting challenges: political, economic and statutory. It will indeed be difficult for Amtrak to overcome the formidable forces that have kept it confined through the years, and the question is whether Amtrak can build the coalition that could not only make the 2035 map a reality, but also add other trains to fill out an extensive national network. That appears unlikely at the moment, but Amtrak is at least daring to dream, for the first time since the turn of the century. Most of the long-distance trains are returning to daily operation soon, too. That is a vital step, without which any hope of growing the network at all would have been impossible.
Amtrak spokesperson Marc Magliari explained the light blue and orange indications on the map, confirming that the light blue lines meant trains and not merely bus connections, a reassuring step in the right direction. He also saidthat "enhanced" service could mean more daily frequencies, higher speeds or new equipment, apparently advising us to construe the word "enhanced" broadly.
We have heard this before. Twenty years ago, John Robert Smith, Chair of the Amtrak Board at the time, explained his expansion plans for Amtrak to me over lunch at Weidmann's, the historic restaurant in Meridian, Miss., where he was also serving as mayor. He had good ideas: a section of the Crescent splitting at Meridian and going through Jackson and Vicksburg to Dallas; running one of the New York-Florida trains on the Florida East Coast south of Jacksonville, among several others. Amtrak route maps showed them in yellow as "future service" lines for a few years, but none were ever implemented, and now they can't be. Instead, the statute changed and effectively prohibited such expansion.
That was PRIIA, the Passenger Rail Investment & Improvement Act of 2008. It defined the "national network" of routes more than 750 miles long that were operating at the time, effectively freezing it until Congress decides to thaw it out. That's why the map almost shows a re-routed Floridian between Chicago and the Sunshine State, with a train-less gap between Louisville and Nashville. That is why only one route that had been discontinued is now shown on the 2035 "wish list" map. If the Heartland Flyer is extended northward from Oklahoma City to Newton, Kan., a rider could take a trip between Chicago and south of Fort Worth, mostly on historically Santa Fe track, but with two transfers, rather than through-running equipment. For several years, BNSF has wanted more money to allow a train on that segment than Oklahoma is willing to pay, so that "segment" is now a bus ride. Would the feds use infrastructure money to satisfy BNSF's demands? Time will tell. That's an exception, and an example.
As long as the PRIIA definition of the "national network" includes only routes at least 750 miles long that operated in 2008 (codified as 49 U.S.C. §23401(C)(7)), there can be no additional long-distance routes. There can be new state-supported routes, and it appears that many of the new starts proposed on the map would fit into that category, but there is a caveat: The states that support a train must pay the entire cost, after getting some help from Amtrak for the first few years of operation.
Without plans for new long-distance routes, there is no choice but to place the emphasis on short routes that do not cross state lines or may cross only one. Magliari told Railway Age that the routes outlined in the 2035 plan came mostly from state rail plans and reports from other quasi-official bodies like the Southern Rail Commission in the Gulf Coast states. Still, there is one important constituency that Amtrak may not have consulted when drawing its map: the advocates for the nation's rail riders.
Throughout the years, advocates have been pushing for expansion of the nation's passenger train network, from more long-distance routes, to expanded corridors, to new starts and expanded services on local passenger railroads. The National Association of Railroad Passengers (NARP, now the Rail Passengers' Association, RPA) proposed its own "Grid and Gateway" map several years ago, an augmented national network that would restore a number of trains that were discontinued in the 1960s. The Rail Users' Network (RUN) has called for the restoration of trains that were once part of the Amtrak system but were eliminated, starting in 1979, as well as for other new long-distance trains and corridors.
These groups and their members should be included in future discussions about expansion. So should local and state-level advocacy organizations., which have also proposed routes that deserve consideration, from the Maine Rail Group's proposals for service north of Brunswick to Augusta and Lewiston-Auburn, to a proposal by Rails, Inc. in New Mexico for a Rocky Mountain Flyer from El Paso to Denver through Albuquerque, and perhaps further north to Montana.
New England
At the present time, the trend in state-supported trains does not point toward growth, but toward retrenchment. Except for the Downeaster corridor between Boston and Maine, every state-supported corridor hosts far fewer trains than before the virus hit, and it is unclear how many will return to the rails after the dust settles. The States are in financial trouble, and the public sector is contracting fast. Even elected officials who would like to keep the trains running can always find more-urgent spending priorities. We don't even know if the state-supported trains that ran until March 2020 will ever return. The situation would probably be far worse for potential restoration of service on routes that have not run for half a century or longer, especially considering the cost of the required capital improvements.
Some of the proposed improvements would entail adding more trains to existing corridor-length routes. These changes would be welcome, but corridors outside the Amtrak-owned Northeast Corridor (NEC) face the same problems as existing or proposed state-supported corridors and trains. How long can a state afford to keep supporting a train when tax revenue declines but financial obligations continue? We seem to be getting the answer, and there is not much to like. Indiana killed the four-day-a-week Hoosier State in 2019, before the virus hit. One of the two daily round trips between St. Louis and Kansas City has been a casualty of the virus, and it probably will not come back. The Heartland Flyer seems to live perpetually on borrowed time. Corridors elsewhere offer the lowest level of service ever.
Against this grim backdrop, there is still some reason for hope in the long term, but it appears that there are three vital steps that must be taken to plan and build the sort of network of long-distance trains and corridors that the nation needs and deserves. Indeed, it may not even be possible for Amtrak to implement its 2035 map without taking these steps.
First, Congress must repeal the PRIIA definition that effectively prohibits growth of the long-distance network. That limitation came during the Bush Administration and was left intact during the Obama-Biden and Trump Administrations. The time may now be ripe for the nation's elected officials to permit Amtrak's long-distance network to grow, which would allow the country's residents and visitors to enjoy a wider selection of travel destinations than they currently have.
Second, Amtrak must develop a program and funding formula that encourages states to participate in supporting the sort of new starts represented by the light blue lines on the map. Under the current formula, the states must pay more to keep their trains and corridors going than many of them can afford these days. It may require help from Congress to enact a formula for federal assistance in building and operating state-supported trains and corridors in the future. That formula should be at least as generous as the one that offers a federal share for highway construction and new starts for local transit.
Third, Amtrak should move beyond its contacts with state officials and quasi-governmental groups, and expand its planning to include rider-advocates as genuine stakeholders. The leaders and board members of RUN and RPA are experienced advocates who are well-informed on rail issues and can act as the bridge between Amtrak and its passengers. Advocates at the state level, and regional levels within a state, know their train-riding neighbors and have been pushing for regional corridors and better connections between Amtrak and local rail transit for decades. Not only do the advocates deserve a seat at the table when decisions are made, but they also have knowledge gained outside the political system—knowledge that is useful, but which politically beholden organizations like Amtrak do not have.
While Amtrak's proposal is a good start, there is no time like the present for refining and expanding it. For the sake of the environment, community mobility and local economies in our cities and towns, it is now time for the next step: to expand the initiative. Rider-advocates and state officials need to keep pushing. Amtrak might even be on board with that, as well. Spokesperson Marc Magliari seemed genuinely upbeat about Amtrak's expansion plans throughout our interview. That's a good sign.
David Peter Alan is one of America's most experienced transit users and advocates, having ridden every rail transit line in the U.S., and most Canadian systems. He has also ridden the entire Amtrak network and most of the routes on VIA Rail. His advocacy on the national scene focuses on the Rail Users' Network (RUN), where he has been a Board member since 2005. Locally in New Jersey, he served as Chair of the Lackawanna Coalition for 21 years, and remains a member. He is also a member of NJ Transit's Senior Citizens and Disabled Residents Transportation Advisory Committee (SCDRTAC). When not writing or traveling, he practices law in the fields of Intellectual Property (Patents, Trademarks and Copyright) and business law. The opinions expressed here are his own.
May 1,2021 (HAPPY 50TH BIRTHDAY AMTRAK
HERES SO COOL VIDEO I FOUND ABOUT AMTRAK
Celebrating Amtrak's 50th Anniversary (OFFICIAL WEBSITE)
3/30/2021 – Trains.com News Wire
Topic: Amtrak-East Coast
On April 5, a fourth round trip returns to North Carolina's Raleigh-Charlotte Piedmont Corridor, the first multi-frequency state corridor to be fully restored. The state took an incremental approach when adding service, with the second and third round trips coming back last August and December, respectively. Trains News Wire will focus on the mechanics of the restoration and promotional plans in a subsequent interview with Rail Director Jason Orthner.
In Maine, the Downeaster will add another round trip sometime in May after schedule adjustments are worked out with Amtrak and Pan Am Railways, says Northern New England Passenger Rail Authority Executive Director Patricia Quinn.
"The schedule is a little different, though. Instead of just plugging two midday trains back into their old slots, we're adding a 10:30 a.m. departure from Brunswick, which will turn as a 3:00 p.m. departure from Boston," she says. "Given the change in commute patterns, we decided to try something different, assuming we won't need two trains leaving Boston for the evening rush hour, but the additional round-trip means we will again have a flex schedule for the late-night train from Boston to accommodate sports fans and concert goers." Quinn adds that weekday and weekend schedules will now be identical, "so we remain as consistent as possible in these ever-changing times."
Elsewhere, New York state's plans for the Empire Corridor are indefinite, with the continued Canadian border closure keeping the Maple Leaf to Toronto and Adirondack to Montreal sidelined. And the Vermont Agency for Transportation did not respond to inquires about when the Ethan Allen or Vermonter might return, though observers have recently spotted crew qualification runs on one of the routes.
Website Link ->Amtrak Downeaster Schedule